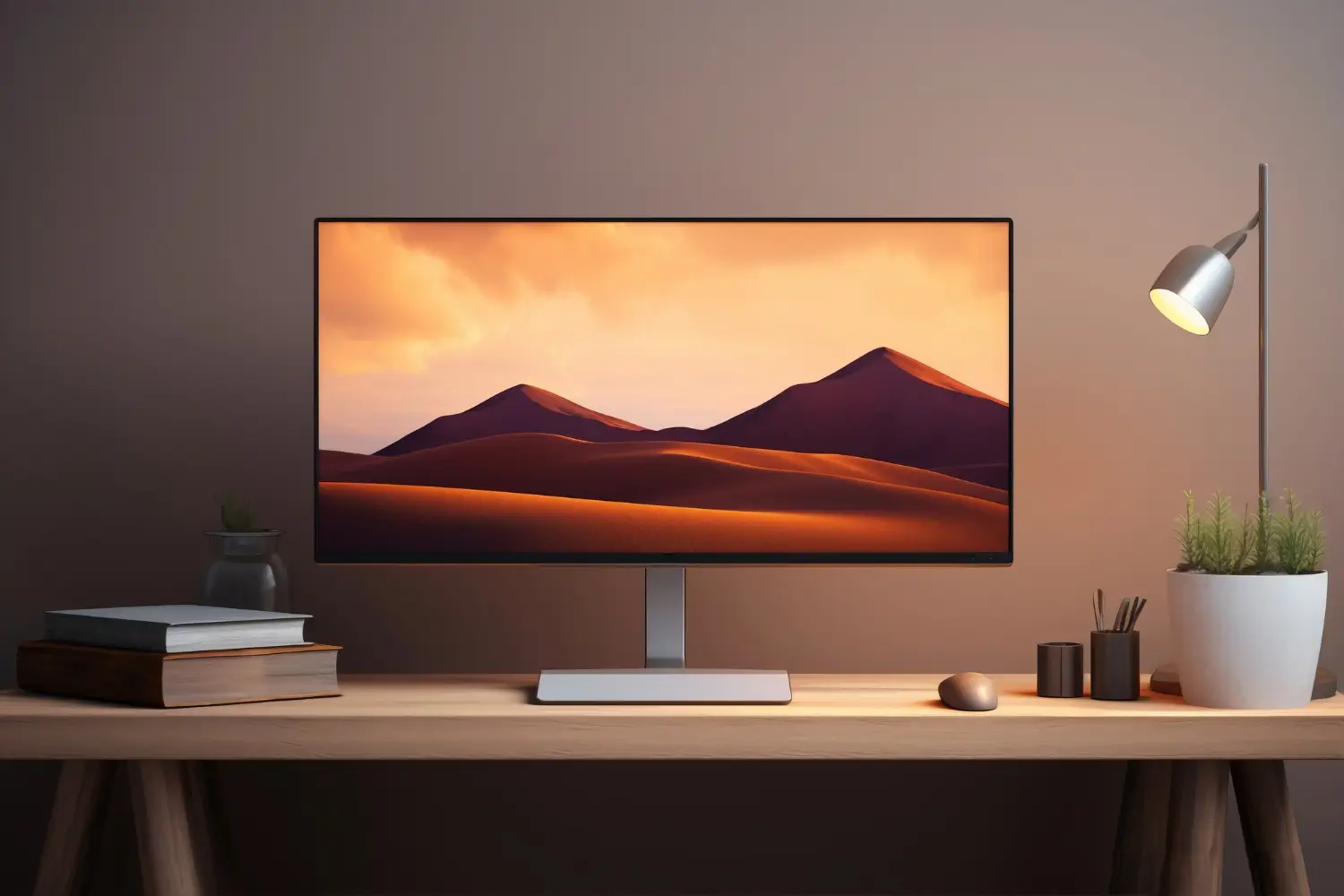 "Disclosure: This post contains affiliate links. If you click one and make a purchase, we earn a small commission at no extra cost to you. It helps support the site so we can continue to offer great content to you!". Here's how it works.
According to medical researchers, 48% of adults use computers or tablets for work, and 95.7% of teens have access to personal computers or laptops for different purposes. Prolonged use of digital devices can result in eye strain, physical and mental fatigue, and headaches.
It is because of the blue light, which is shorter and more intense than other visible light types. It flickers quickly and for longer durations, creating glare that reduces screen contrast and produces a hazy effect. So, you should switch to low blue light monitors that don't cause eye strain.
So, let us see some options to find the best and most affordable monitors that are easy on the eyes.
Our Top Picks for You
| No. | Monitor | Size (Inch) | Resolution (Pixels) | Refresh Rate (Hz) |
| --- | --- | --- | --- | --- |
| 1. | ASUS PB278Q | 27 | 2k QHD (2560×1440) | 50 |
| 2. | BenQ GW2480 | 23.8 | Full HD (1920×1080) | 60 |
| 3. | LG 29WN600-W | 29 | Full HD (1920×1080) | 75 |
| 4. | Samsung U28E590D | 32 | 4K UHD (3840×2160) | 60 |
| 5. | ASUS VY279HE 27" | 27 | Full HD (1920×1080) | 75 |
| 6. | BenQ EW3270U | 31.5 | 4K UHD (3840×2160) | 60 |
| 7. | Samsung Odyssey G7 | 31.5 | 2k QHD (2560×1440) | 120 |
| 8. | LG 32ML600M-B | 31.5 | Full HD (1920×1080) | 75 |
Features Comparison Table: Best Low Blue Light Monitors
Best Low Blue Light Monitors: Quick Overview
Detailed Review Best Low Blue Light Monitors
The monitors that are easy on the eyes should be flicker-free or have eye care technology. Also, large screen monitors help with eye stress. Based on these features, the following suggestions could be good choices for you!
1. ASUS PB278Q Eye Care Monitor
Image credit: Amazon
Review
The ASUS PB278Q is a 27-inch WQHD display (2,560×1,440) monitor known for its excellent color quality and wide viewing angles. Unlike the common TN panels in budget monitors, PLS and IPS panels offer superior color quality and viewing angles. The matte-coated PLS panel provides vibrant colors, excellent viewing angles, and easy readability of small text. The flicker-free feature makes it a perfect choice for low blue light and less eye strain.
The monitor provides various video connections, including VGA, DVI, HDMI, and DisplayPort inputs, and an audio input and earphone jack. While it lacks USB ports, it's competitively priced compared to other monitors with similar features in the PLS category.
It has a simple design, with thin bezels and a matte black cabinet. The stand is strong and offers height adjustability, tilt, swivel, and portrait mode. However, it doesn't support auto-rotation, so you may need to adjust the image orientation in your graphics control panel. It features crisp 3-watt speakers that deliver clear sound even at high volumes.
With a 5-millisecond pixel response rate, the monitor handles fast-paced gaming and motion video well. It offers a smooth, blur-free experience. The ASUS PB278Q offers impressive performance and quality for gaming or office use.
2. BenQ GW2480
Image credit: Amazon
Review
The monitor features an IPS (In-Plane Switching) panel, which provides excellent color quality and wide viewing angles. While it excels in color and black quality, it has an 8ms response time and a 60Hz refresh rate. This monitor is not for competitive gaming due to its response time and refresh rate. However, it can handle non-competitive games with ease.
The monitor includes EyeCare technology, which adjusts screen brightness based on ambient light conditions. It's useful for extended screen use in varying lighting conditions. You can toggle on/off in the menu.
It has built-in speakers, although small. The sound quality could be better; they lack bass and high-quality highs. For a better audio experience, I recommend using external speakers or headphones. The menu system uses four buttons for navigation, and while not the most intuitive, it gets the job done. On-screen icons help identify button functions when navigating the menu.
This monitor best suits office work, production tasks, programming, security camera monitoring, web browsing, video streaming, and light gaming. It can also serve as a quality streaming monitor. Heavy gamers, color-sensitive photo or video editing, or those seeking high-quality built-in speakers may not like it due to response time.
3. LG 29WN600-W
Image credit: Amazon
Review
The LG 29-inch UltraWide monitor boasts a 21:9 aspect ratio, providing 33% more screen space than standard Full HD displays. This extra room allows seamless multitasking, making it ideal for work or study. You can effortlessly manage tasks like video meetings and document editing side by side.
It delivers vibrant colors, excellent brightness, and wide viewing angles for everyday use. The monitor features a rapid 5ms MPRT response time and a smooth 75Hz refresh rate. It incorporates Flicker-Safe technology, which effectively reduces imperceptible screen flickering, and offers a Reader Mode to create a more comfortable viewing environment for your eyes.
The best part is the size, which makes it perfect for long working hours, gaming, or entertainment. You don't have to switch from one monitor screen to another and enjoy everything at a single display without any eye stress.
This LG monitor is also equipped with AMD FreeSync technology, significantly improving the gaming experience by virtually eliminating issues like screen tearing and stuttering. Although I don't recommend built-in speakers, its speakers are up to the standard. The audio quality from the dual 7W Stereo Speakers is satisfying. In summary, it strikes a good balance between speed and image quality.
4. Samsung ViewFinity S70A 4K UHD High-Resolution Monitor
Image credit: Amazon
Review
This monitor has outstanding picture quality with a 32-inch display. The visuals are incredibly sharp, detailed, and natural, with realistic and accurate colors. With its 10-bit per color and a spectrum of 1 billion colors, everything, especially movies and videos, appears more detailed, clear, and lifelike, with reduced noise and deeper blacks. The display offers clarity and sharpness like IPS, OLED, or Retina. The picture quality is satisfying and comparable to that of more expensive monitors.
One of the best aspects of this monitor is its eye-friendly features. It's flicker-free and won't strain your eyes during extended use. Moreover, it has an eye-saver mode that manually activates from the display settings. It becomes even more effective when combined with the night light feature in your operating system. This monitor is an excellent choice for individuals who prioritize quality and eye comfort, especially those who wear glasses or contact lenses.
Gaming on this monitor is exceptionally smooth. With 5ms response time and FreeSync enabled you'll have a great gaming experience. It has no tearing, image blurring, delays, or frame drops. The build quality is impressive. Its materials exude a premium feel, and its modern design is visually appealing.
However, the stand is not adjustable, which may be a limitation for some users. It also lacks HDCP 2.2 support. Therefore, you can't watch 4K content if you connect a console like Xbox.
Despite these limitations, this monitor comes highly recommended, especially for those on a budget. It offers exceptional value for its price point.
5. ASUS VY279HE 27"
Image credit: Amazon
Review
The ASUS VY279HE is a 27-inch IPS monitor with excellent value. It boasts a 1ms response time and AMD FreeSync support for gaming. This monitor has a premium look with its sleek dark grey finish and ultra-thin bezel. Its V-shaped base is easy to assemble and only consumes a little desk space, although the panel still needs some room. The monitor's effective anti-reflective coating enhances the viewing experience, especially on its 27-inch display.
Its full HD (1080p) resolution strikes a sweet balance for precise color reproduction and legible text. Color Augmentation mode helps people who have trouble seeing some colors by making the colors easier to tell apart. Rest Reminder helps prevent eye tiredness and reminds you to take breaks from the screen.
It features HDMI, VGA, and a headphone jack at the back, facing downward. You'll also find a standard VESA port for mounting on a stand or wall. While it lacks USB and DisplayPort options, this omission is acceptable given its attractive price point.
6. BenQ EW3270U
Image credit: Amazon
Review
The BenQ EW3270U has a 4K resolution and a 32-inch monitor. Its pixel density of 139 pixels per inch (ppi) rivals the MacBook display's text sharpness (ppi=227). This monitor has a VA panel that delivers excellent contrast, especially with black backgrounds. Although not true HDR, the HDR mode further enhances contrast. This makes the text colorful in applications.
The auto brightness adjustment is a nice bonus. It eliminates the need for manual adjustments. This monitor is flicker-free, which is good for the eyes. There's no significant light bleed or color fading. It's a VA panel that has less ideal viewing angles. The monitor's out-of-the-box settings are excellent; you don't need to tweak much.
The speakers on this monitor are simple. They let you know what's happening rather than being your primary sound source. I wouldn't suggest getting this monitor if you're looking for good speakers, but they do the job.
The only drawback is the somewhat limited adjustability of the stand it comes with. However, it does have VESA mounting support if you prefer a more adjustable setup. To raise the monitor's height, place a couple of books underneath it.
7. Samsung Odyssey G7
Image credit: Amazon
Review
The Samsung Odyssey G7 is an outstanding 32-inch widescreen monitor with a WQHD QLED curved display to deliver an exceptional visual experience.
What sets the Odyssey apart is its 1000R panel, which matches the curvature of the human eye. It minimizes eye strain and provides a genuinely captivating immersion level. Additionally, boasting 1.7 times the pixel density of FHD, this WQHD monitor ensures ultra-sharp imagery and crystal-clear text.
To further enhance the viewing experience, the monitor includes features like an eye-saver mode, anti-flicker technology, and a black equalizer, all designed to reduce eye strain.
While it may not be an ultrawide monitor, its remarkable 240Hz refresh rate makes it a top choice for gaming enthusiasts. The HDR 600 technology enhances your ability to discern details in even the darkest and gloomiest game scenes without causing discomfort or requiring squinting.
Its out-of-the-box configuration can lead to unwanted scanline-like artifacts and flickering during gameplay when using VRR/g-sync. Fortunately, there's a solution to this problem. You can enable "VRR Control" from the system settings. You must check Samsung's website to ensure you get the latest firmware updates and this feature. Ideally, they should activate VRR control by default to prevent this issue, but unfortunately, that's not the case. It would help if you also turned off "Dynamic Contrast", as this feature negatively impacts the overall picture quality.
8. LG FHD 32ML600M-B
Image credit: Amazon
Review
LG FHD has good picture quality. When you turn on HDR, you notice a significant improvement in image quality. On a 32-inch monitor with a 1920×1080 resolution, the images might not be as sharp as some would prefer. Although it's okay, you might notice some pixelation, mainly if you're not accustomed to 4K displays.
When it comes to work tasks, this monitor shines. Its large screen provides ample real estate for productivity. For typical office tasks and everyday work, it performs well. You'll find it more than adequate for getting your job done efficiently.
While this monitor is not for gaming, it still impresses with its HDR capabilities. Games that support HDR look surprisingly good on this monitor, especially considering its price point. Whether playing games like Call of Duty Modern Warfare, Mass Effect, Tomb Raider, or GTA 5, you'll notice detailed, sharp, and satisfying visuals. The monitor delivers smooth and clean gaming experiences without lag, after-image effects, or discoloration.
All LG models have flicker-free technology. However, this monitor has some severe brightness levels. You might get eyestrain if you keep the brightness at high. So, keep it low and be careful. Except this, the wide screen helps in less eye strain.
Unfortunately, there are some downsides to this monitor. These monitors are heavier, and the plastic stands don't support their weight. They are prone to breaking, so be cautious.
Conclusion
Each of these monitors has something unique to offer. They're all designed to help reduce eye strain and improve your overall visual experience, so it comes down to what suits your specific needs and preferences.
Monitors with brilliant colors and wide viewing angles, such as the ASUS PB278Q and BenQ GW2480, should be on your radar. They thrive in certain areas, making them suitable for various activities.
However, if you enjoy multitasking, the LG 29WN600-W's UltraWide design could be a game changer. It gives you that extra screen space to juggle multiple things at once.
Now, for the gamers out there, the Samsung Odyssey G7 and ASUS VY279HE might catch your eye. They offer features that can enhance your gaming experience, whether you're into fast-paced action or more casual gaming.