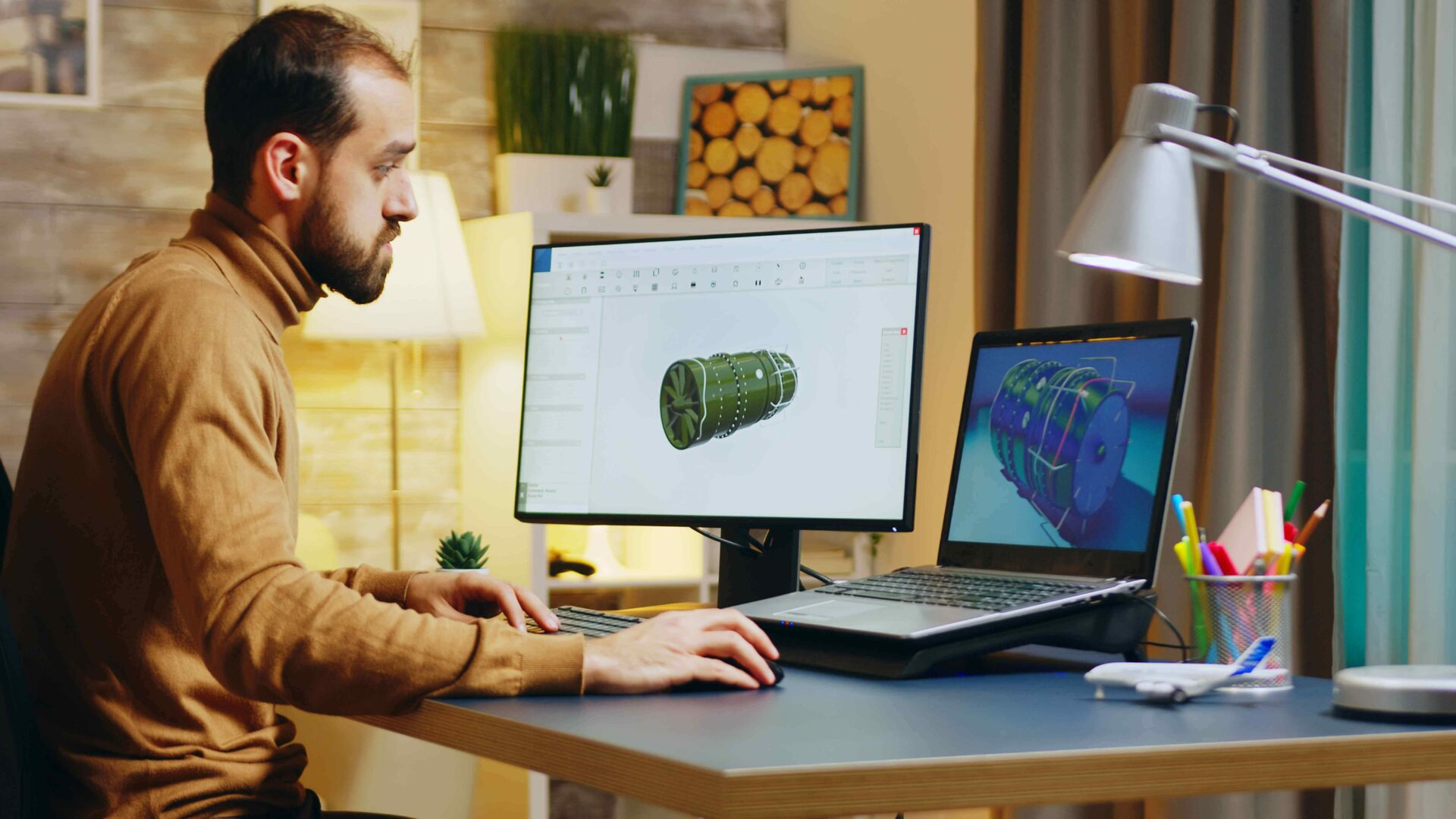 "Disclosure: This post contains affiliate links. If you click one and make a purchase, we earn a small commission at no extra cost to you. It helps support the site so we can continue to offer great content to you!". Here's how it works.
Having the appropriate monitor can make all the difference in 3D modeling when it comes to producing 3D models of the highest caliber. You may examine your models in more detail on monitors made exclusively for 3D modeling, which also offer a cozy and precise workstation.
A top-notch monitor with correct color reproduction, good resolution, and enough screen space is necessary for 3D modeling. Additionally, some monitors have particular features like 3D-capable screens and movable stands that can be useful to 3D modelers.
So, are you looking for the best monitor for 3D Modeling? If yes, check the list below to pick the best suitable monitor for 3D Modeling.
List of the Best Monitors for 3D Modeling
ViewSonic VP2756-4K Monitor (Best Budget Monitor)
BenQ PD3200U Monitor (Best Monitor with Great Color Accuracy)
ASUS ProArt PA329cv Display (Best Professional Grade Monitor)
BenQ EX3501R Ultrawide Monitor (Best Quality Monitor)
LG 27UK850-W 4K Monitor (Best Overall Monitor)
Features Comparison Table
Comparison of features of the Best Monitor for 3D-Modeling
Buying Guide
There are several things you should take into account when purchasing a monitor for 3D modeling, some of them are mentioned below:
Display Resolution
Monitors with high resolution offer more screen space and better details. Consider a monitor with at least a 1440p (2560×1440) resolution for 3D modeling, or a 4K (3840×2160) resolution for improved clarity and precision.
Color Accuracy and Gamut
The 3D modeling process depends on accurate color representation. You should look for a monitor with a large color gamut that ideally, covers almost all of the sRGB or Adobe RGB color space. Think about monitors with an excellent rating for color accuracy, such as those with an IPS (In-Plane Switching) panel.
Type of Panel
Since IPS panels have better color reproduction and wider viewing angles, they are recommended for 3D modeling. Compared to TN (Twisted Nematic) or VA (Vertical Alignment) panels, they provide a more realistic portrayal of color. In contrast, if money is an issue, certain high-end TN or VA panels can also offer good color accuracy.
Response Time and Refresh Rate
Even though these aspects are more important for gameplay, they affect the overall experience. When rotating or modifying 3D objects, a faster refresh rate, such as 144Hz or 240Hz, can produce smoother on-screen animation. Motion blur and ghosting are less noticeable with a fast response time, ideally under 5ms. So, inspecting the response time and refresh rate before buying a monitor will save you from relevant hazards.
Size and Aspect Ratio
The size of the monitor is determined by personal desire and the amount of available workspace. Larger monitors can increase productivity and allow for finer detail work. A larger aspect ratio, like 16:9 or 21:9, might offer a more immersive experience when working with 3D models.
Ergonomics & Connectivity
Inspect the monitor to see if it has the connectors required for connecting to your computer or other devices. For high-quality signal transmission, consider choices like DisplayPort or HDMI. You can make your long hours of work comfortable with ergonomic features like adjustable stand height, tilt, and swivel. So, choose accordingly.
1. ViewSonic VP2756-4K Monitor (Best Budget Monitor)
Image credit: Amazon
Review
The ViewSonic VP2756-4K is a professional-grade monitor with high-resolution images and color accuracy, making it suitable for several applications, including 3D modeling, photo & video editing. If you're a creative individual seeking a 4K display with 100% sRGB color space coverage and Pantone Validation, then consider the ViewSonic VP2756 monitor as your next monitor.
Coming to the key considerations, the VP2756-4K features a 27-inch 4K Ultra HD (3840 x 2160) IPS panel. The high pixel density guarantees clear details and accurate representation of 3D models. With its wide viewing angles, IPS technology enables you to comfortably see the screen from various angles without experiencing color fidelity loss.
Moreover, the VP2756-4K is created with color-critical applications as accurate color reproduction is essential for 3D modeling. It ensures accurate and vivid color representation with 10-bit color support and coverage of 100% sRGB and 95% DCI-P3. This feature is crucial for activities like texture mapping and material design.
Additionally, this monitor provides various connectivity options, including HDMI 2.0, DisplayPort 1.2, Mini DisplayPort, and USB Type-C with DisplayPort Alt mode. These choices provide flexibility when connecting the monitor to your workstation or laptop. The best feature of this monitor is that it offers out-of-the-box color accuracy due to the factory pre-calibration.
Last but not least, to find a comfortable viewing position, you can tilt, swivel, pivot, and modify the height of this monitor's stand according to your requirements. All things considered, the ViewSonic VP2756-4K is a feature-rich display that seems well-suited for 3D modeling.
2. BenQ PD3200U Monitor (Best Color Accuracy Monitor)
Image credit: Amazon
Review
Are you looking for a monitor with excellent color accuracy and a wide viewing angle suitable for 3D modeling? If so, then BenQ PD3200U would be the best choice for you. It offers a 4K Ultra HD resolution with AQCOLOR technology and a 60-hertz refresh rate, so its quality won't let you down.
Let's dive into the key specifications, the PD3200U's 4K UHD resolution (3840×2160 pixels) offers exceptional sharpness and clarity for intricate work. Its IPS panel guarantees accurate color reproduction, broad viewing angles, and good color consistency, all of which are essential for 3D modeling.
This monitor has 100% sRGB and Rec. 709 color compatibility and is factory pre-calibrated. Furthermore, it has a 10-bit color depth, enabling a wide range of color gradients and an accurate depiction of color tones. For projects involving expert 3D modeling, this degree of color fidelity is crucial.
It offers multiple options for connectivity, including DisplayPort, mini DisplayPort, HDMI, and USB 3.0 ports. These ports enable you to connect the display to various devices, like graphics cards, laptops, and external storage. Moreover, this monitor helps create a comfortable working environment due to its adjustable stand, pivot, tilt, and swivel.
Additionally, a few extra capabilities of the PD3200U are helpful for 3D modeling. Because of its Low Blue Light filter and Flicker-Free technology, it helps prevent eye fatigue after extended use. While the Darkroom mode modifies brightness and gamma values for clear images, the CAD/CAM mode boosts contrast and fine details.
Thus, the BenQ PD3200U is a well-acclaimed monitor for 3D modeling.
3. ASUS ProArt PA329cv Display (Best Professional Grade Monitor)
Image credit: Amazon
Review
The ASUS ProArt PA329CV is a professional-grade display designed specifically for tasks like 3D modeling, graphic design, and content production. It has several properties that make it ideal for various uses. The PA329CV has a 32-inch IPS panel with a 4K UHD resolution (3840 x 2160 pixels). This high resolution allows for bright and crisp graphics and adequate screen space for intricate 3D models.
Moreover, this monitor can display colors with little deviation from their intended values because it is factory calibrated to achieve good color accuracy and a Delta E2 grade. It is appropriate for professional work like 3d modeling that requires accurate color representation because it covers 100% of the Rec. 709 color spectrum and 100% of the sRGB color space.
The ProArt PA329CV has a broad color gamut, including 100% of the Adobe RGB and 90% of the DCI-P3 color spaces. You can work with a wider spectrum of colors due to this broad color coverage, which is crucial for applications like 3D modeling. The display has an impressive 1000:1 contrast ratio, enabling deep blacks and bright colors. This function improves the visual experience by offering a better.
Additionally, this PC monitor enables content makers to quickly connect to desktops, control panels, peripherals, and Mac devices with its unmatched compatibility with USB-C, HDMI, and DisplayPort for multiple devices. Overall, the ASUS ProArt PA329CV is a display that can handle professional visual activities like 3D modeling well.
4. BenQ EX3501R Ultrawide Wide Monitor (Best Quality Monitor)
Image credit: Amazon
Review
BenQ EX3501R is another best monitor for 3D modeling. As it is a gaming monitor, it gives you high-quality performance. In today's quick-action games, it provides a fluid immersive experience.
Now coming to the main features, The EX3501R is a 35-inch curved display with an ultrawide 21:9 aspect ratio. With a resolution of 3440 x 1440 pixels, it gives enough screen space for multitasking and using complex 3D models. The high resolution gives you sharp details that are crucial for 3D modeling.
Moreover, its 100% sRGB color gamut ensures accurate color reproduction for vivid and lifelike graphics. This function is crucial for 3D modeling since it allows you to see your models in their truest colors, textures, and lighting. It also supports HDR (High Dynamic Range) technology, which increases the contrast and color accuracy of compatible content.
Furthermore, this monitor has a curved display that offers an engaging viewing experience by encompassing your peripheral views. Additionally, to safeguard your eyes from prolonged screen time, BenQ's unique brightness Intelligence Plus technology sensor automatically detects the ambient illumination in your surroundings and adjusts the screen brightness.
Despite not having features specifically designed for 3D modeling, the BenQ EX3501R Ultrawide Wide Monitor is a good option for professionals in this industry due to its expansive screen size, high resolution, accurate color reproduction, and immersive design.
5. LG 27UK850-W 4K Monitor (Best Overall Monitor)
Image credit: Amazon
Review
LG 27UK850 is another suitable monitor for 3d modeling or content creation. For 3D modeling activities, the LG 27UK850-W's 4K UHD resolution (3840 x 2160) offers a high level of detail and clarity.
Coming to the specs, its IPS technology ensures that your models are displayed with correct colors and constant quality, regardless of where you are viewing them. It also provides wide viewing angles. Additionally, this monitor supports HDR10 to improve contrast and color gamut to make working with fine details easier.
The colors on the LG 27UK850-W are accurate and vivid because it covers 99% of the sRGB color gamut. Additionally, it offers hardware calibration, allowing you to adjust the monitor's colors with a suitable calibration tool for even greater color accuracy.
It has several connectivity options, including DisplayPort, HDMI, USB-C, and USB 3.0 connectors. The USB-C connector is good for connecting laptops and transmitting data and video over a single wire. Furthermore, the monitor's slim bezels on the edges provide a more immersive viewing experience, which is beneficial when dealing with larger models.
Consequently, the LG 27UK850-W 4K monitor has a high-resolution screen, accurate color reproduction, and favorable viewing angles, making it appropriate for 3D modeling applications.
Final Thoughts
Choosing the best monitor for 3D modeling is essential because it directly affects your content and productivity. However, the best monitor for 3D modeling depends on your preferences, budget, and specific requirements.
You can choose the monitor that meets your needs and delivers an accurate and immersive visual experience for 3D modeling jobs by taking into account the elements described above and comparing various models. Hopefully, after reading the above guidelines, you have chosen the perfect monitor for you.

However, if you are confused about buying one, we suggest you buy the ASUS ProArt PA329cv Display because it's the top professional monitor specifically for 3D modeling.
Also Checkout 7 Best monitors for poor eyesight.