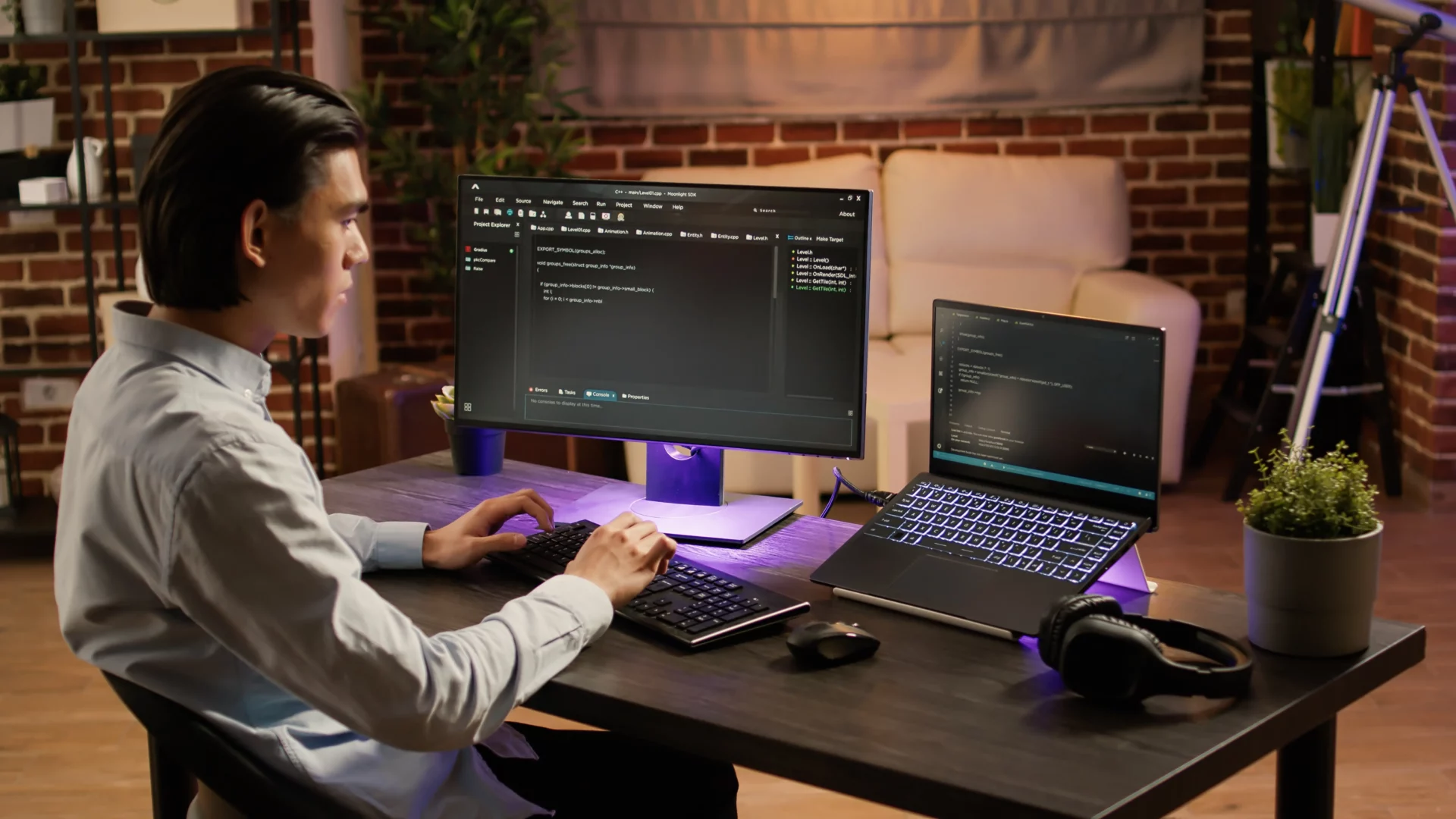 "Disclosure: This post contains affiliate links. If you click one and make a purchase, we earn a small commission at no extra cost to you. It helps support the site so we can continue to offer great content to you!". Here's how it works.
Do you need a monitor for coding?

Yes. Investing in a high-quality monitor can significantly enhance your coding performance, especially when working on UI development tasks. By eliminating the need to switch between screens repeatedly, a monitor provides a streamlined workflow that allows you to focus more efficiently on your coding tasks. With a larger display area, you can have multiple windows and applications open simultaneously, which promotes multitasking and improves overall productivity.

By reducing the time and effort spent on screen switching, a monitor helps maintain your concentration and flow, enabling you to delve deeper into your coding work. So, by using a monitor, you can experience a remarkable 10x boost in performance and achieve greater efficiency in your coding endeavors.

Now you know the benefits of a monitor, there are a few things to check when selecting the best monitors for coders, including screen size, resolution, color accuracy, connectivity options, and ergonomic features.
Since there are so many options available in the market, choosing a monitor for your needs can be quite challenging. Well, don't worry. We have put in the hard work so that you don't have to do it. Below is a list of top monitors best for coding and programming.
List of the Best Monitors for Coders
Buying Guide
There are several crucial aspects to take into account when purchasing a monitor for coding. Here are some essential characteristics to check for:
Display Size and Resolution
A larger display can provide more screen real estate, allowing you to view more code at once. It is advised to use a resolution of at least 1080p (Full HD), although higher resolutions, such as 1440p or 4K, can provide even greater clarity and detail.
Type of Panel
Three types of panels are frequently used: IPS (In-Plane Switching), VA (Vertical Alignment), and TN (Twisted Nematic). Although TN panels are often less expensive, their color reproduction and viewing angles are worse. IPS panel features better color fidelity and a wider viewing angle. Even though VA panels can have longer response times, they provide deeper blacks and better contrast ratios.
Color Accuracy
Coding requires accurate color reproduction, especially if you work in graphic or online design. Look for a display that has a wide color gamut and good color accuracy, such as an IPS panel with sRGB or Adobe RGB support.
Contrast and Brightness
In well-lit areas, higher brightness levels (measured in nits) enable improved visibility. Increased contrast ratio improves readability by highlighting the differences between dark and light shades. So, always check the brightness and contrast ratio before buying a monitor.
Connectivity
To connect to your computer, make sure the monitor has the required input connections. The common choices include DVI, DisplayPort, and HDMI. For attaching peripherals, additional USB ports can be effective.
Ergonomics
Take a look at the monitor's adjustment choices. To find a comfortable viewing position and lessen neck and eye strain during a long duration of coding, look for options like height adjustment, tilt, and swivel.
Reviews & Recommendations
Read client reviews and get referrals from other programmers or industry experts. You may make an informed choice with the aid of their expertise and insights.
Final Thoughts
Coding or programming monitors are well-known for having good screens, accurate color reproduction, ergonomic features, and several connecting possibilities, which makes them excellent candidates for programmers.
As several companies of monitors are available in the market, choosing the monitor is the most challenging task, especially if you are a coder and programmer. Hopefully, after going through the above details, you may have selected the best suitable monitor for you. If not, we recommend you buy either LG 29WN600-W or ASUS ProArt Display.
However, the ideal monitor for you depends on your needs, priorities, and financial situation.