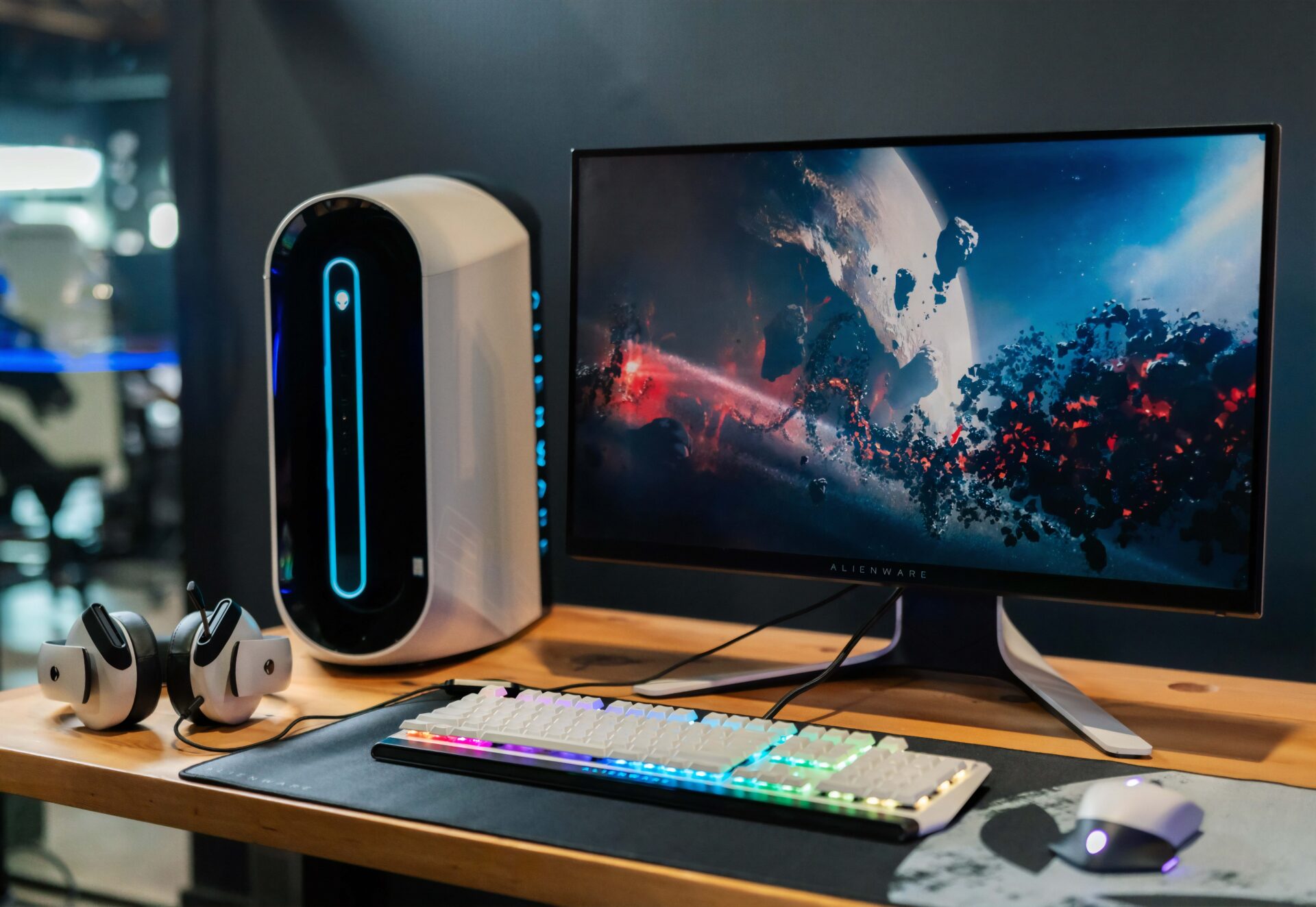 "Disclosure: This post contains affiliate links. If you click one and make a purchase, we earn a small commission at no extra cost to you. It helps support the site so we can continue to offer great content to you!". Here's how it works.
List of our Top Picks Under $300
| | | | | |
| --- | --- | --- | --- | --- |
| Name | Size | Resolution | Refresh Rate | Special Features |
| Dell S2721QS 27 Inch 4K UHD | 27 inches | 3840 x 2160 | 60 Hz | High Dynamic Range and adjustment options include tilt, pivot, height, and swivel. |
| ASUS TUF Gaming HDR Monitor (VG27BQ) | 27 inches | 2560 x 1440 | 165 Hz | Free from Trace & Flicker, Swivel, Pivot, Tilt, and Height Adjustment |
| Acer Nitro ED323QU Pbmiippx | 27 inches | 2560 x 1440 | 165 Hz | Curved screen, high dynamic range |
| Packard Bell 27 Inch Monitor | 27 inches | 1920 x 1080 | 75 Hz | Frameless, Height adjustable, Swivel, Tilt, and Pivot adjustable |
| CRUA 32″ Curved Gaming Monitor | 31.5 inches | 2560 x 1440 | 144 Hz | Curved display |
| LG 32UN500-W Monitor | 31.5 inches | 3840 x 2160 | 60 Hz | Wall mountable, inbuilt speaker, and anti-glare screen |
| Alienware AW2523HF Gaming Monitor | 25 inches | 1920 x 1080 | 360 Hz | Anti-glare, LED edgelight system, FPS Mode, RTS Mode, Mercury free, arsenic-free glass, Sports Mode, 3 gaming modes, Dell ComfortView, Low Blue Light technology |
What to Check When Purchasing a Monitor
It's not simple to choose a monitor, so you should think about the following features before making a purchase.
There are three types of resolution 1080p or 1920×1080; Quad HD/QHD, or 2560×1440; and 4K, or 3840×2160. Which of these three you choose just relies on how much you're ready to spend today. The best-looking resolution is 4K, which is great for larger monitors and typically offers additional advantages like HDR.
In addition to being cheaper, 1080p is the most widely supported by media and applications. While not as sharp as 4K, 1440p is less expensive and has a great visual quality than 1080p.
Although the typical display size ranges from 23 to 32 inches, there are possibilities both below and above that. Many individuals find 27-inch monitors ideal since they provide fair-sized screens and, in most cases, fall within the moderate price range.
However, if you need additional screen area, 32-inch monitors are terrific, and 23-inch monitors are fantastic affordable choices that may also fit in tiny places.
The display of the image depends on the panel your monitor is using. However, there are different types of panels; Twisted Nematic (TN), In-Plane Switching (IPS), and Vertically aligned (VA). TN panel is affordable, but it has a slow response time. IPS panel is expensive and has high pixel density, while VA is better than TN but not as good as IPS.
HDMI, DisplayPort, and USB are three different types of ports available on different monitors. It's wonderful to have the option to choose between HDMI and DisplayPort because each has advantages to take into account.
Currently, HDMI comes in a few different configurations, but it's a reliable, frequently used, and reasonably priced connector. With DisplayPort, large cables can be used to carry higher-quality audio and video data without sacrificing quality. DisplayPort should be your priority if you want a high-end display with insane specifications.
The refresh rate is how frequently your display updates with new images per second. Practically speaking, this impacts how fluid movement seems on your screen, whether it's playing a movie or scrolling through a web page. Higher refresh rates are relevant if you're working with video or playing games because both require the ability to view fast frame rates.
However, if you're not using either of those, a 60 or 75-Hz monitor ought to be more than adequate.
Detailed Review of 7 Best Monitors Under $300