5 Best Monitors for 3D Modeling in 2023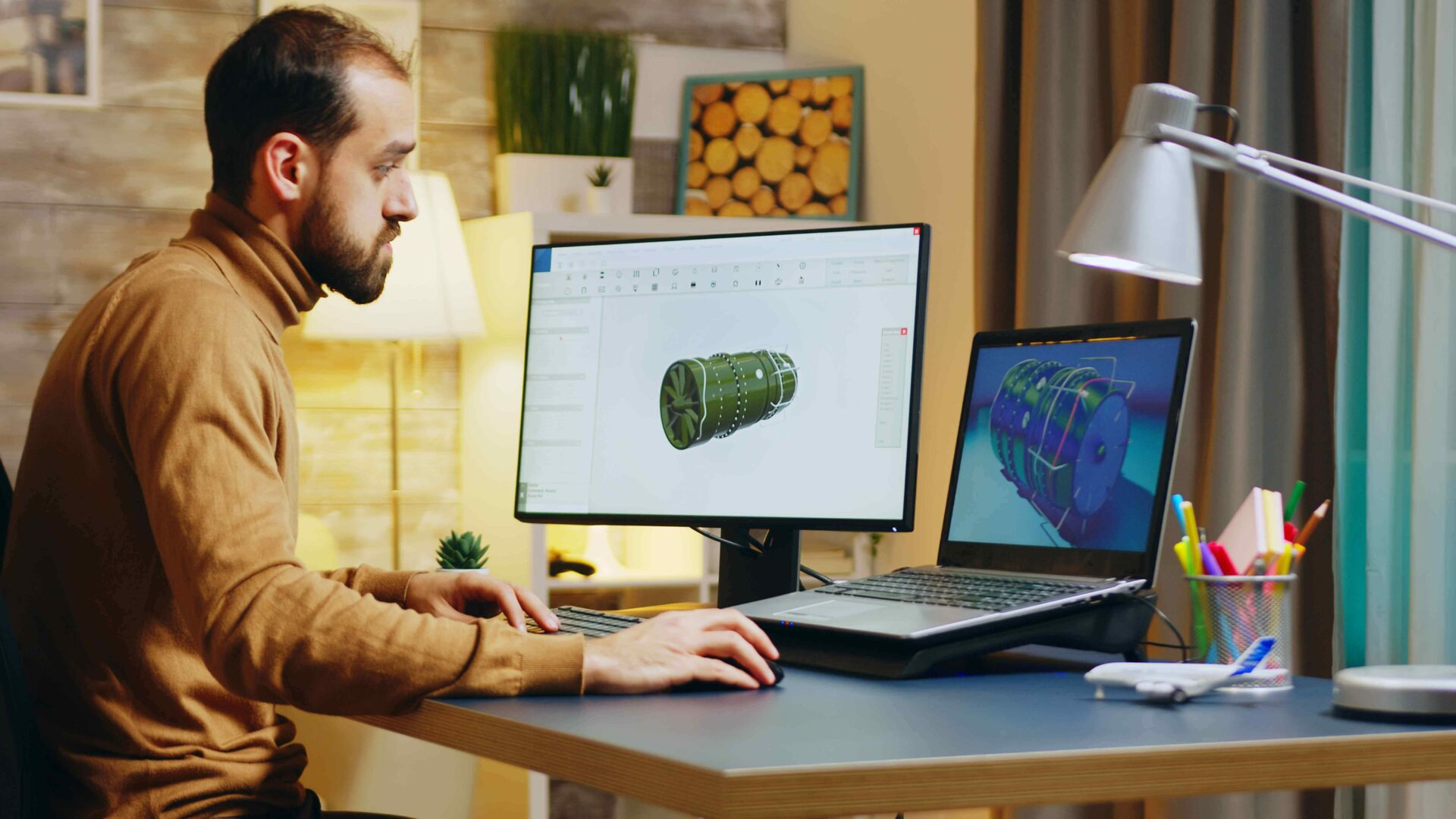 "Disclosure: This post contains affiliate links. If you click one and make a purchase, we earn a small commission at no extra cost to you. It helps support the site so we can continue to offer great content to you!". Here's how it works.
3D modeling software becomes frustrating sometimes as it hangs your system and is difficult to handle. What if you don't have a good monitor that doesn't show good-quality rendering? This makes the experience much more cranky. Therefore, your system and your monitor are essential for better rendering of 3D objects.
The selection of monitors for 3D modeling is quite different from monitors for long hours or Adobe Illustrator. You might need a large 3D monitor with high-definition screen resolution, workstation flexibility, and an adjustable height stand. Still, it feels overwhelming when you have to choose the best 3D modeling monitor for yourself among many options.
You don't need to worry; we have the best 3D modeling monitors list. So, you may pick the most suitable one according to your desired usage. Here you go!
List of the Best Monitors for 3D Modeling
Features Comparison Table
Brand
Screen Size (Inches)
Refresh Rate (Hertz)
Resolution (Pixels)
Color Gamut
Inputs/Outputs
ViewSonic VX1755   
17.2″
144
1920 x 1080
NTSC: 45%
sRGB: 64%
HDMI, USB-Type-C
PHILIPS 322E1C
32.0″
75
1920 x 1080
104% sRGB
HDMI
ViewSonic VG1655
15.6"
60
31920×1080
Not specified
USB Type-C
Optix G27CQ4 E2 
27.0″
170
2560 x 1440
DCI-P3 90%, and 115% sRGB
HDMI
LG UltraWide WFHD
29.0"
75
2560 x 1080
99% sRGB spectrum coverage
HDMI
Tabular Summary of the best monitors for 3D modeling Tabular Summary
Buying Guide to Choose the Best Monitor for 3D Modeling
An aspiring 3D modeler or a seasoned pro upgrading their workspace must choose the right monitor. The best 3D modeling monitor can help you capture every detail and refine your projects to the highest standard. This comprehensive buying guide covers the most important factors when choosing a 3D modeling monitor.
Resolution and Aspect Ratio
Resolution: For 3D modeling, choose a monitor with at least 1440p (2560×1440) resolution. Clear, precise imaging details are displayed for 3D models. Higher-resolution monitors make it easier to work on fine details.
Aspect Ratio: Working with 3D models is more immersive with a 16:9 or 21:9 aspect ratio. A broader aspect ratio gives you more horizontal screen space for viewing large models and working on complex projects.
Panel Types and Color Accuracy
If you want accurate colors and wide-angle viewing, choose an IPS monitor. Twisted Nematic (TN) and Vertical Alignment (VA) panels are cheaper but lack color accuracy and viewing angles. A more cost-effective option is to use premium TN or VA panels.
Response Time
Pick a screen with a response time of 1 ms or less and preferably less than 5 ms. It ensures no motion blur when working on fast-paced 3D animations or designs.
Refresh Rate
Monitors with 75 Hz or higher refresh rates are ideal for 3D modeling. A higher refresh rate smooths 3D object rotations, improving workflow and productivity.
Connectivity
Ensure the monitor you choose has multiple connectivity options. Look for ports like DisplayPort, HDMI, and USB-Type-C. Multiple ports simplify work by connecting your computer, laptop, graphics tablet, and other peripherals.
Ergonomics
Adjustable stand height, tilt, and swivel are ergonomic features. It is necessary for a comfortable workspace during long 3D modeling sessions. Proper ergonomics reduce strain and discomfort, letting you focus on work.
1. ViewSonic VX1755
Image credit: Amazon
Review
If you're passionate about 3D modeling and demand the best tools for your craft, the ViewSonic VX1755 is the ideal monitor to elevate your creative process. This monitor gives you the precision and performance to bring your 3D creations to life.
The ViewSonic VX1755 boasts a breathtaking 4K UHD (3840 x 2160) resolution, providing four times the detail and clarity of Full HD. It will provide you with every intricate detail of your 3D models with unparalleled precision.
A 10-bit IPS panel on the ViewSonic VX1755 covers 100% sRGB color space. Whether you're working on product designs, architectural projects, or character animations, you can be confident. There is no need to worry about the colors not matching the ones you see on the screen.
A comfortable workspace is needed for long periods when 3D modeling. The ViewSonic VX1755 incorporates Flicker-Free technology and a Blue-Light Filter to reduce eye strain and fatigue during long work sessions.
With its quick 60Hz refresh rate and 5ms response time, the ViewSonic VX1755 ensures fluid performance even when working with intricate 3D models or animations. This monitor's responsiveness lets you execute your creative vision without lag or motion blur when sculpting in Blender, rendering in Maya, or animating in Cinema 4D.
The VX1755 has various ports, including HDMI, DisplayPort, and USB hubs. These choices allow you to quickly and easily hook up your computer, laptop, graphics tablet, and other peripherals. Streamlining your work and making you more productive will be possible.
The VX1755 has earned the ENERGY STAR and EPEAT Silver ratings for its energy efficiency and low environmental impact. You do not have to choose between high performance and environmental responsibility regarding 3D modeling.
2. PHILIPS 322E1C
Image credit: Amazon
Review
The Philips 322E1C is a high-performance monitor that checks all the boxes for 3D modeling professionals. Its 31.5-inch screen provides plenty of space for your 3D modeling workspace. The gently curved 1500R screen curvature improves immersion. It also helps reduce distortion at the screen's edges. 3D modelers who want to get lost in their work and feel fully engaged should consider the Philips 322E1C.
The Philips 322E1C employs VA (Vertical Alignment) panel technology. The IPS panels and the quick response times of the TN panels work well together in this configuration. This panel's wide viewing angles and consistent colors ensure your 3D models look great from every angle.
Every pixel matters when you're working with 3D models. The Philips 322E1C's 4K UHD resolution (3840 x 2160 pixels) offers extraordinary clarity and sharpness. With this monitor, you can ensure every detail is as you imagined.
The Philips 322E1C's wide color range ensures accurate color representation for lifelike 3D models. Its display can display 93% of the Adobe RGB color gamut and 102% of the sRGB gamut. This makes it a top choice for color-critical tasks.
Adaptive Sync is available on the Philips 322E1C for 3D design modelers. This feature reduces screen tearing and provides smoother visuals while gaming. The monitor's 75 Hz refresh rate is more than fast enough for most 3D modeling tasks.
This monitor has various connectivity options, including HDMI, DisplayPort, and a USB hub, making it versatile and compatible with multiple devices. The Philips 322E1C features Flicker-Free technology and a Low Blue-Light mode to reduce eye fatigue, allowing you to work comfortably for extended periods.
3. ViewSonic VG1655
Image credit: Amazon
Review
If you are into 3D modeling, you will love the ViewSonic VG1655. High-resolution visuals, color accuracy, adjustability, portability, and eye-friendly features make it a top 3D modeling tool. Buy the ViewSonic VG1655 today to improve your 3D modeling with its clarity, color accuracy, and convenience.
Visual clarity is one of the most critical aspects of 3D modeling. The ViewSonic VG1655 has a stunning 1920 x 1080 Full HD resolution, ensuring that every detail of your 3D models is displayed precisely.
The VG1655 does not just excel at resolution; it also excels at color quality. With 100% sRGB color coverage and a Delta E<2 color accuracy, this monitor ensures that the colors you see on-screen are accurate.
The importance of ergonomics in maintaining productivity during long 3D modeling sessions cannot be overstated. The ViewSonic VG1655 has various adjustability options, including tilt and height adjustments. To reduce neck and eye strain, you can adjust the monitor's position for long-term comfort.
The portability of the VG1655 is a game changer for 3D modelers who are constantly on the go. Its slim, lightweight design lets you take it to client meetings, workshops, or different rooms in your home or studio. The protective cover doubles as a stand, making it for mobile professionals even more convenient.
The ViewSonic VG1655 also stands out for the versatility it provides. Multiple ports allow for connection to external devices; these include USB-C, HDMI, and a mini DisplayPort. The USB-C connection simplifies setup by giving power and video signal on a single cable.
4. MSI Optix G27CQ4 E2
Image credit: Amazon
Review
This monitor will meet your needs as a professional or hobbyist. With a stunning QHD (Quad High Definition) resolution of 2560×1440, the Optix G27CQ4 E2 is a must-have for a serious media consumer. The 27-inch Optix G27CQ4 E2 display is slightly curved, bringing you closer to your 3D creations.
3D modelers need accurate color representation, and the Optix G27CQ4 E2 delivers. Comprehensive color gamut coverage (90%) DCI-P3 and 115% sRGB brings your imagination to life. Each curve, texture, and element will be rendered in lifelike detail, giving you confidence and precision.
The Optix G27CQ4 E2 is excellent not only for viewing still images but also for processing rapid-fire video. Its high refresh rate of 170 Hz guarantees fluid animations and transitions as you explore your 3D models. Furthermore, it has AMD FreeSync Premium technology, eliminating visual tearing and stuttering. It is helpful for smooth animations and real-time 3D modeling.
Blue light reduction and flicker-free flicker relief reduce eye strain and fatigue during long modeling sessions on the Optix G27CQ4 E2. Adjustable height and tilt let you find the best viewing angle on the monitor. To work with your 3D modeling workstation, it has HDMI, DisplayPort, and USB ports as well.
5. LG ULTRAWIDE WFHD
Image credit: Amazon
Review
The LG UltraWide WFHD monitor revolutionizes 3D modeling for professionals and enthusiasts. An immersive UltraWide display, WFHD resolution, color accuracy with a refresh rate of 75 Hz, and a response time of 5 ms make it the perfect canvas for 3D modeling.
This monitor also boasts a stunning resolution tailor-made for intricate modeling tasks. With its crisp and clear WFHD (2560 x 1080) resolution, you can spot even the tiniest details. It will also ensure your 3D models are crafted with precision.
With LG's On-Screen Control software, you can divide the screen into multiple sections, each displaying a different application or document. It gives you HDR 10 support with a 99% color coverage of the sRGB spectrum, which helps the designer work more smoothly.
Having more room to work in is a significant benefit of the LG UltraWide WFHD monitor. Multiple 3D modeling software windows make referencing other projects easier, comparing designs, and multitasking.
The LG UltraWide WFHD monitor eliminates scrolling and zooming, improving productivity. The large screen is a standout feature of this monitor. The LG UltraWide WFHD monitor is designed with both visual and user experience in mind. The ergonomic design allows you to find the ideal viewing position by adjusting the height, tilt, and swivel.
Final Thoughts
Selecting the best monitor for 3D modeling depends upon your preference list and budget. You can go for monitors most aligned with your needs from the above-discussed list. They all are suitable for 3D modeling. If you are still confused, I'm giving you one reason for each monitor to buy.
Also, check out 7 Best Monitors For Adobe Illustrator In 2023.